Silversea Cruises' newly designed uniforms were previewed in a fashion show held aboard Silver Wind in Venice. They were created by Italy's Instituto Europeo di Design (IED) of Milan, a specialised fashion school for designers destined for global fashion brands.
The project was launched in September 2012, when the IED team spent several days aboard Silver Spirit, drawing creative inspiration from the elegant ship's Art Deco interior, and gaining insight into the functions and needs of the ship's officers and staff working in a diversity of settings, including reception, restaurants, lounges, and housekeeping.
The IED designers have created an elegant and distinguished look in several variations that complements the luxury line's brand image. The collection features natural fabrics, including cotton and wool, in a black, white, blue, and grey colour palette.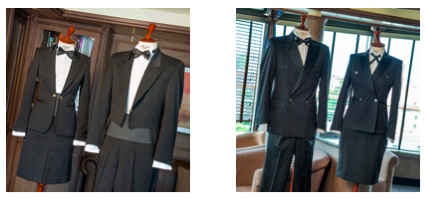 "We are delighted to showcase the talents of the up-and-coming fashion designers of IED," said Cristina Levis, Silversea's Head of Business Development. "They have created stylish and comfortable uniforms that will be made in Italy and that effectively project the sophistication, professionalism, and graciousness of the ladies and gentlemen who represent our brand."
The collection was designed by Antonio Pala, Alla Polozenko, Laura Liistro, and Magdalena Kilkovich. The project was co-ordinated by Francesca Tottoli, manager of special projects for IED Moda, and professors Valentina Conzo and Alfonso Granieri.
In the coming months, several hundred Silversea shipboard employees will be outfitted in the elegant uniforms from Milan.